Who We Are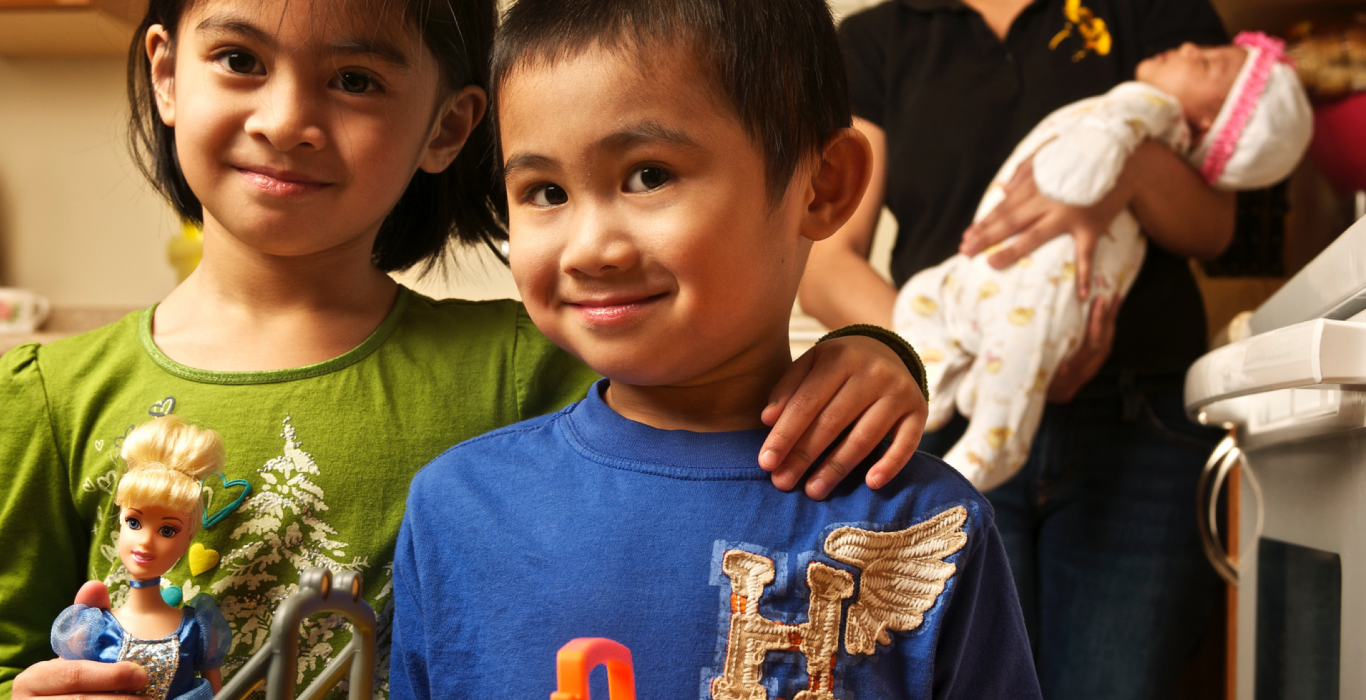 WHO WE ARE
Our Cause is Canada's Charities and Nonprofits
We work to bolster the Canadian charitable and nonprofit sector's role in building, enriching and defining our nation.
Land Acknowledgement
Imagine Canada's staff, operations, work, and network depend on traditional Indigenous territories to provide us physical space, sustenance, safety, and community to work, live, and play. 
Our physical head office is located on the traditional territory of many nations including the Mississaugas of the Credit, the Anishinabeg, the Haudenosaunee, the Chippewa, and the Wendat (Wyandot). We acknowledge that these lands are covered by Treaty 13 and the Dish With One Spoon Wampum Belt Covenant. We acknowledge that these lands are still home to many diverse First Nations, Métis, and Inuit people. 
Mission & Values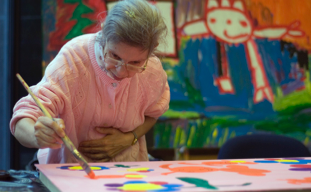 Our vision is of a stronger Canada where charities work together alongside business and government to build vibrant and prosperous communities.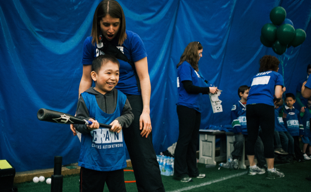 Our mission is to strengthen Canadian charities and nonprofits so they can better serve individuals and communities both here and around the world.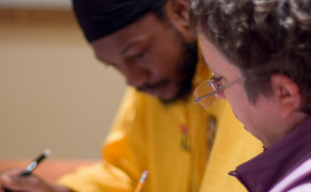 We believe that charities and nonprofits play an essential role in Canadian society by:
Engaging Canadians
Building knowledge
Strengthening public policy
Helping those in need
Enhancing quality of life
Contributing to economic prosperity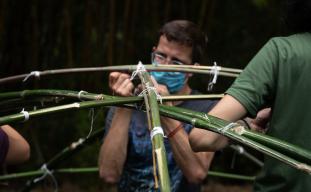 We strive to realize our vision and mission by working according to the following values:
Accountability
Care
Courage
Drive
Inclusivity
Teamwork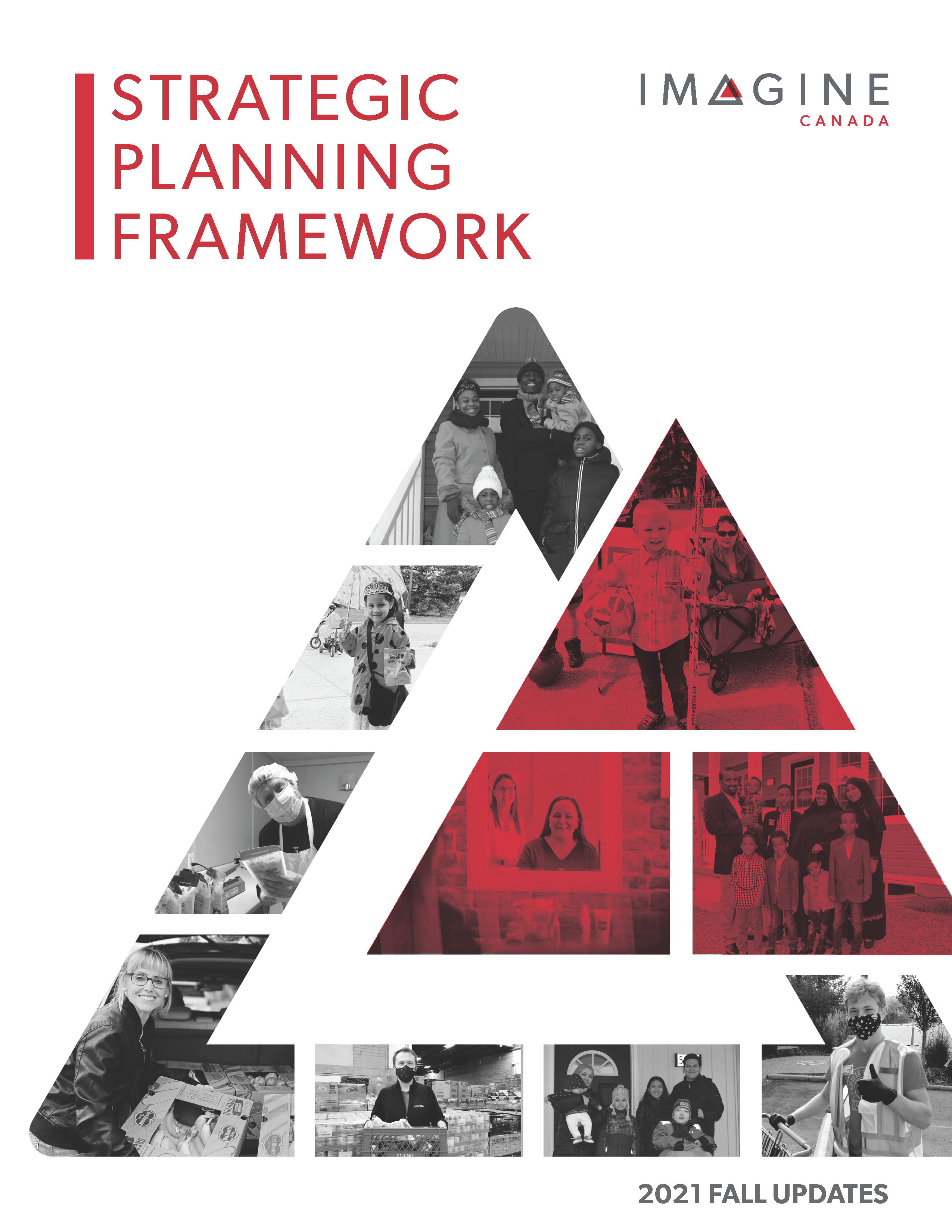 Strategic Planning Framework
The future is upon us. As charities and nonprofits seek to fulfill their missions in an ever-changing world, Imagine Canada is continuing its process of understanding the operating system for organizations, not just today, but what it may look like in years to come.
Our commitment to equity, anti-racism and anti-oppression
Imagine Canada envisions a charitable and nonprofit sector that supports and cultivates diverse, inclusive, just and equitable communities. We are working towards a sector that is truly representative of the communities we work with, that provides radically inclusive workplaces to employees and volunteers of all backgrounds, and that advances systems change. 
IG Wealth Management
Scotiabank
TD Bank Group

An Anonymous Donor
CIBC
Community Foundations of Canada
Cottonwood Charitable Foundation
Metcalf Foundation
Silent Partner Software Inc.

Accelerist
Amazon Web Services
BarterPay
Benefaction Foundation
Blackbaud - Canada
BullWealth
Donald K. Johnson
Employment and Social Development Canada
Keela
PwC Canada
The Counselling Foundation of Canada

Thank you to our supporters and sponsors for the fiscal year of 2021.
Become an Imagine Canada Supporter
Your support enables us to take an enhanced leadership role in defining, promoting and strengthening the charitable sector in Canada.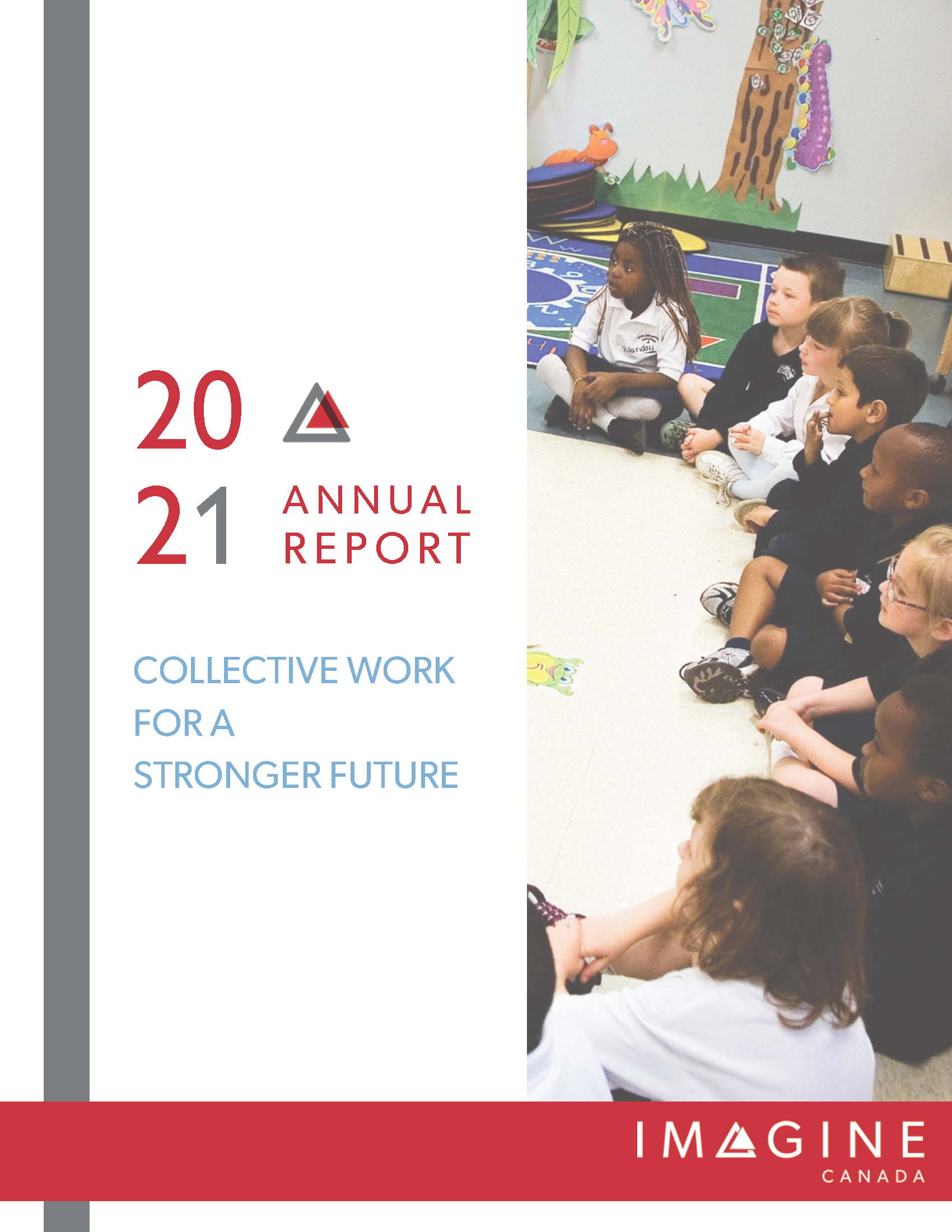 2021 Reports
Collective work for a stronger future
We can envision progress in everything from how we work, to collaborative efforts, to fostering a more equitable society.
When we support each other, we can achieve great things. That offers tremendous hope for the future.