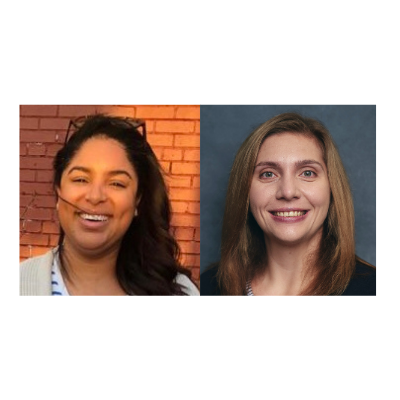 Tanya Hannah Rumble & Mariya Yurukova
info@imaginecanada.ca
Tanya Hannah Rumble & Mariya Yurukova
Tanya Hannah Rumble, CFRE, MFA-P™ 
Tanya Hannah Rumble, CFRE is a fundraising leader who has raised millions for some of Canada's largest charities. Tanya is passionate about equity, diversity and inclusion; and power and privilege and how these intersect with philanthropy. Tanya holds an Honours Bachelor of Arts in Political Science from McMaster, earned a Graduate Certificate in Marketing Communications at NYU; she is also a graduate of the AFP Inclusion and Philanthropy Fellowship, and DiverseCity Fellowship. Tanya is a new mom, a voracious consumer of podcasts, and a baking enthusiast. Tanya gratefully acknowledges the traditional territories of the Mississauga and Haudenosaunee nations, whose traditional territory she lives and works with her husband and infant son. 
 
Mariya Yurukova, MBA, CFRE
Mariya is an experienced fundraiser and thought leader in the nonprofit sector. With over fifteen years of experience in fundraising, Mariya has raised more than $20 million for various organizations, working on gifts ranging from millions to direct marketing campaigns for first time donors. Mariya is an active voice and advocate for diversity and inclusion in the nonprofit sector, with publications in Hilborn Charity E-News, Advancing Philanthropy, CASE Currents Magazine and many more. As a first generation immigrant woman and part of an interracial family, Mariya is keenly aware of systemic inequities in the nonprofit sector and works towards advancing social justice causes while acknowledging her own privilege.