ProServeIT & Microsoft present #Empower2021
January 27, 2021| 9:00am - 6:00pm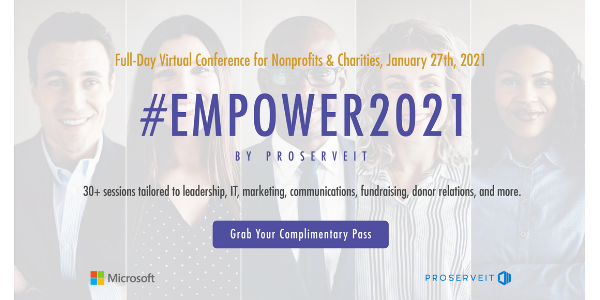 SPONSORED CONTENT
#Empower2021, a full-day virtual conference on January 27th, 2021 co-hosted by ProServeIT & Microsoft, is designed specifically for nonprofits and charities, both small and large, to help them be empowered to scale their mission!
Register to access over 30 breakout sessions tailored to four audiences; Leadership, IT, Fundraising/Donor Relations, and Marketing/Communications. Combined with three keynote speakers and on-demand content exclusive to registrants, you'll be able to sort through the clutter and get to the premium content that is the most up-to-date and relevant to your organization and your role.
The full-day pass, valued at $699, is FREE for anyone working in the nonprofit sector. We encourage you to claim your complimentary pass today before they're gone!
Something else planned for January 27th and can't attend live? No problem! Please sign up anyway to access bonus content in advance of the event and all session recordings post-conference for up to three months.
Ready to be empowered to scale your mission? Looking forward to hosting you at #Empower2021 on January 27th, 2021!